Careers at La Clínica Del Pueblo
Working at La Clínica Del Pueblo means making a difference and providing the highest quality patient care by talented and dedicated employees. We offer opportunities for employment in the fields of medicine, nursing, dentistry, health education, and other support services. Whether you're just beginning your career or taking it to the next level, we have the right job for you.
We are an equal opportunity employer.
Executive Director
La Clinica del Pueblo de Rio Arriba (LCDP) is seeking applicants for the Executive Director position. 
Located in Rio Arriba County in Northern New Mexico

 

$4 million budget

 

Providing Medical, Dental, Behavioral Health, EMS and School Based Health Center services

 
The Organization 
As a Non-Profit State and Federally Funded Organization serving our communities for over 50 years. Our mission is to provide culturally sensitive quality health services to all individuals in our service area, regardless of their financial status. www.laclinicanm.com 
The Role 
Reporting to LCDP Board of Directors and working closely with a highly skilled and dedicated team you will develop, implement and monitor the short and long-term goals ensuring effective organizational quality of care and growth. This will be achieved with focus on: 
Management of organizational staff

 

Oversee a recruitment and retention plan for professional and support staff

 

Management of activities to ensure compliance/adherence to federal, state and local funding sources regulations and requirements

 

Establishes and nurtures relationships with state, local and professional representatives

 

Financial management includes budget formulation and implementation, grant management, and exploring avenues for expansion and facilities

 

Representation of the organization in the media

 

Management of the organization with best practices

 

Position requires full time on site presence

 
Skills Required 
Education 
Graduate degree in health care administration or other closely related field preferred. Appropriate experience may be substituted for the graduate degree requirement. 
Experience 
Minimum of 3 years experience in a responsible position in the professional medical field preferred. 
Skills, Knowledge and Abilities 
Requires comprehensive knowledge of the organizations goals and objectives and operations of a Federally Qualified Health Center or comparable health care facility; comprehensive knowledge of statutes, regulations, guidelines, and other requirements governing the provision of healthcare in the state of New Mexico; knowledge of organization and management; ability to communicate ideas and instructions orally and in writing; ability to supervise the work of others; ability to recognize areas of healthcare needs and to develop and implement such care; ability to involve members of the community in the development of the program; ability to exercise poise and tact in all contact inside and outside LCDP. 
Salary 
Salary Range is from $90k to $130k dependent on education and experience. 
Please send a letter of interest and CV- 
Via email to: pmgurule@la-clinica.org 
Interested individuals may drop off a hard copy of their letter of interest and CV at the main site in Tierra Amarilla. Packet must be in a sealed envelope Attn: Paula Gurule, Executive Assistant/HR Director 
Closing date: Until Filled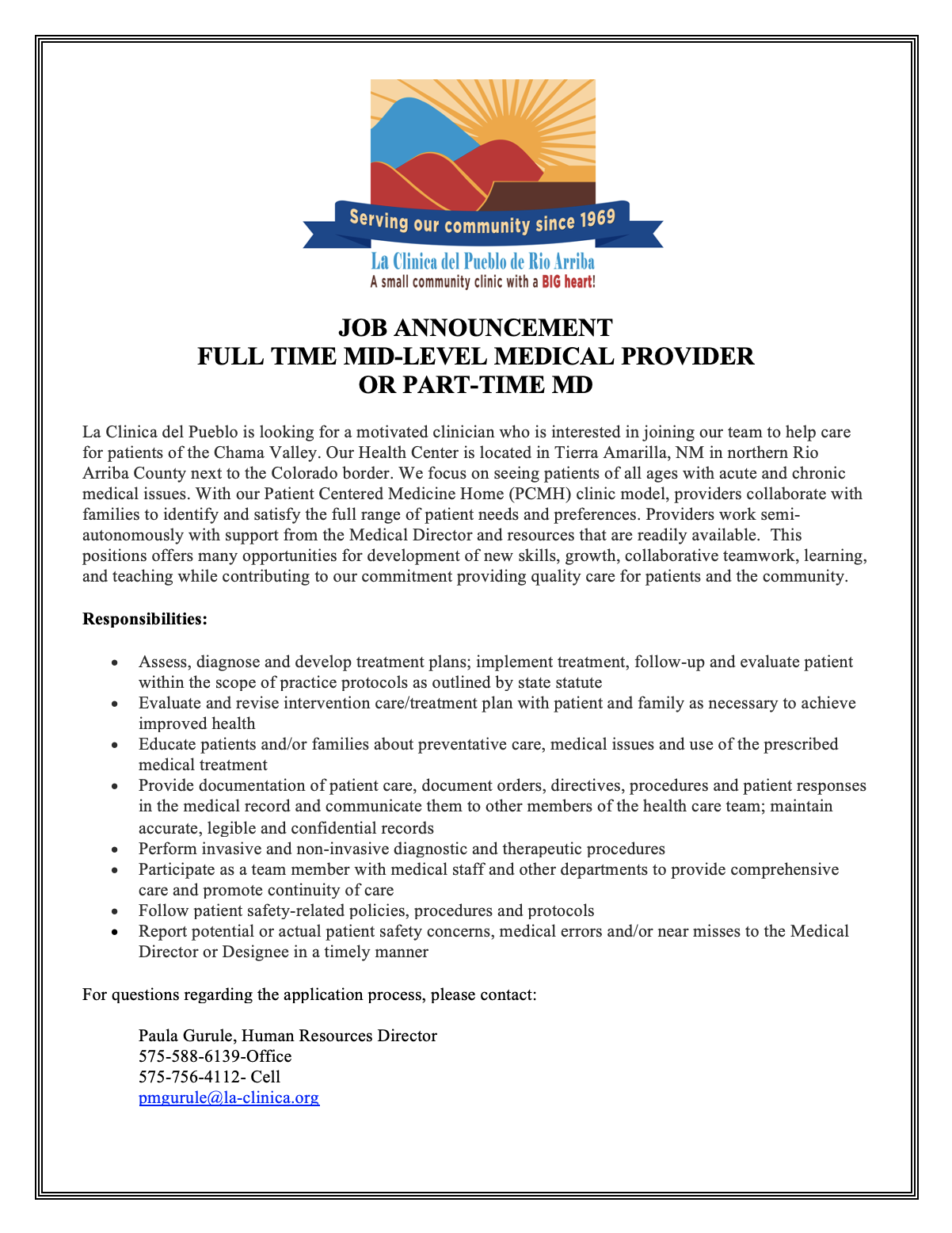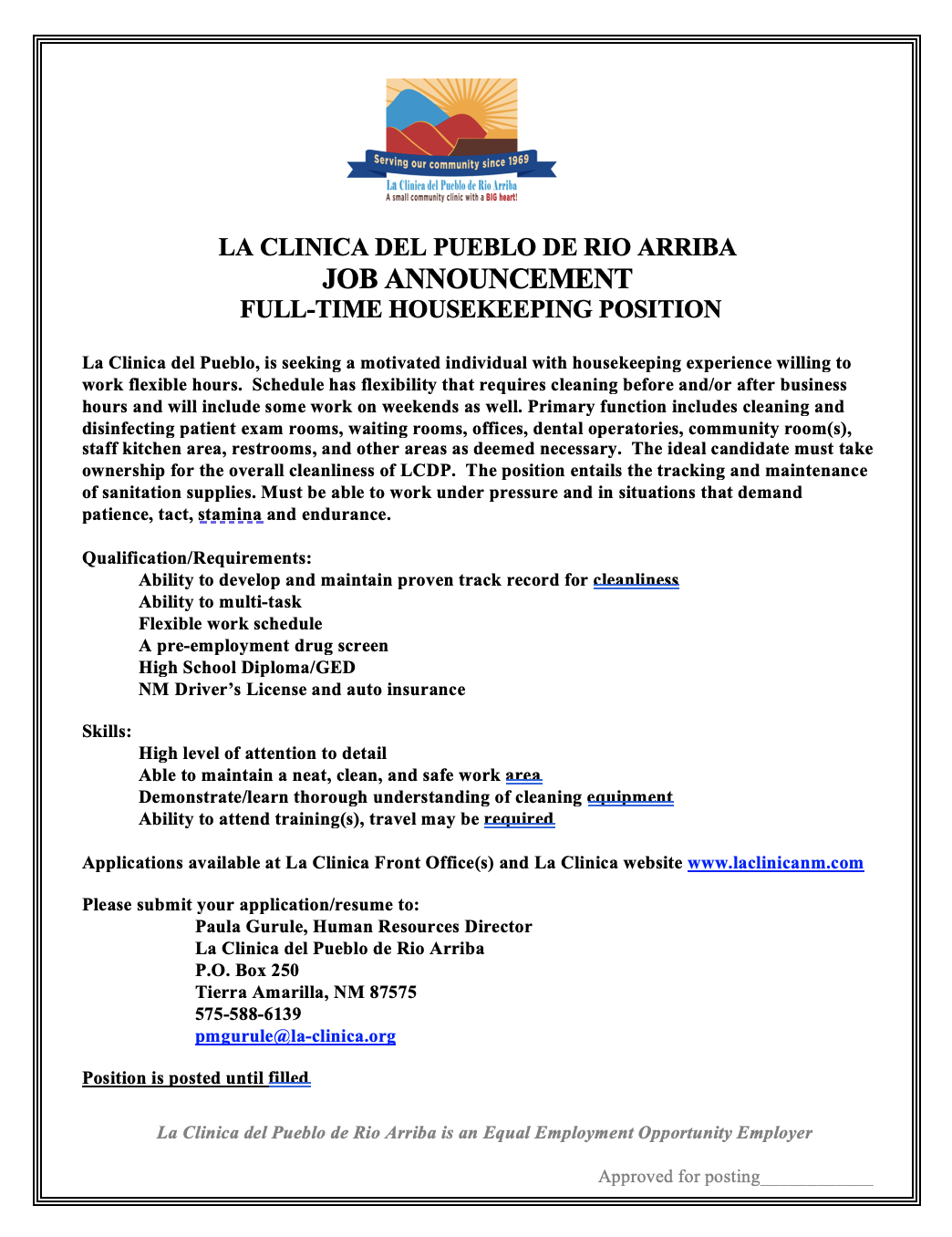 Positions Available
Executive Director
Full-Time Medical Provider
Part-Time Medical Provider
EMS Personnel
Full-Time Training Coordinator/IT Support
Full-Time Housekeeper
Benefits may include
Competitive Salary
Continuing Education Allowance
Paid Malpractice Insurance
Benefits Package – Medical, Dental, Vision, Life Insurance, 403(b) Retirement
Student Loan Repayment Program
Community Information
Live in the beautiful mountains of northern New Mexico.  Explore outdoor recreation and laid-back living while enjoying an exceptional quality of life.  Approximately 2 hours from Albuquerque and 11/2 hours from Santa Fe, New Mexico.  Nearby are Heron Lake and El Vado, two large lakes with extensive shoreline.  Our friendly neighbors will welcome you in; our family activities and low cost of living will help you stay.  Schools are progressive while a variety of housing awaits you.
Easy Access to Hunting, Fishing, Water & snow skiing
Beautiful Outdoors
Tremendous Cultural
Cumbres & Toltec Scenic Railroad
Family Recreation & Entertainment
Golf
Horseback Riding
Affordable Cost of Living
Excellent School District
Cumbres & Toltec Scenic Railroad